Even though my previous post might seem a little anti-Christmas in November, the whole world knows you have to order your Christmas cards early or they won't be ready in time to mail for Christmas.

Last year I got 50 free cards by being part of Shutterfly's blogger program. This year only select bloggers were part of it, and I WON free cards!! Woohoo! Then I got an email from the blogger I won the free cards from about free prints. I had to redeem both because come end of November, early December I'm going to be slammed with school.

Here's a sneak peak at my card this year!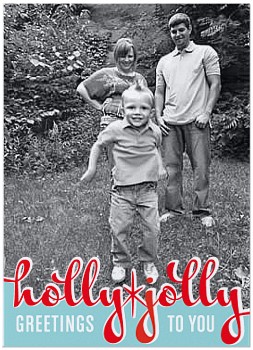 Bright Holly Jolly Holiday Card

(Disclaimer: I got a $10 off coupon for publishing this blurb about my cards, but I'll take it. I love shutterfly and if you've never used them you should!)