About my addiction to tattoos? I, myself, only have 2, but I have big dreams about others. My husband, also only has the two, but that's just because he doesn't have big plans. I would love to come up with awesome designs and just cover his body in ink so I could stare at it daily.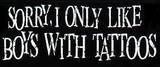 I saw an idea the other day, just little tiny wings, black and white ( I think ) on either side of my achilles heel. The thing is, I want them to stand for different things, so I want 4, one on each side of each foot.
For instance, my Nanny, my mom's mom, was an angel sent to Earth from God himself. Don't get me wrong she had a few faults, but mostly she was a deeply religious woman who did whatever she could to help whoever might need anything. I want one wing to be angelic, as a reference to her.
I think I want one to be sort of broken, to represent my Poppy's MS and my dad's alcoholism.
I'm not sure about the other two, but I can start with those, and decide later!! : )
Here is some idea of what I want:
Just the wing though, not the rest.
I would also eventually like to get a cross composed of the lyrics to 'I'll fly away." I saw this idea on LA Ink, my 3rd favorite show. I loved it, it was super cool! I would love for it to be on my upper back, between my shoulders, but my back is so ticklish, I'm not sure if I'll be able to do it or not!